Rosenstein: No American Citizen Committed Crime Nor Did Hacking Cahnged Vote Count & Election Result
SUMMARY FROM VARIOUS NEWS ARTICLES
Video of Rosenstein holding a press conference and stating that no Americans committed any crime in connections to Russian Hacking and Also stating that the hacking did not changed vote count or changed the reslut of the election. At 5:22 he says this.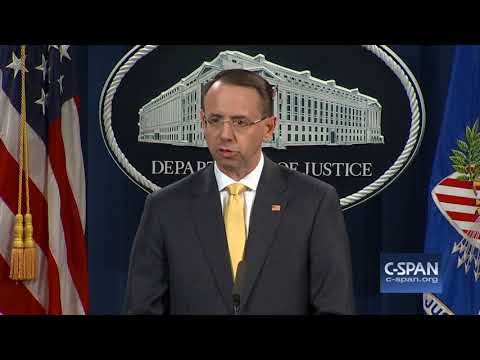 12 Russian GRU spies were indicted by Special Counsel Mueller in his investigations into the Conspiracy relating to the Russian Hacking the elections of 2016 which democrat presidential candidate Hillary Clinton lost to republican candidate Donald Trump. The Deputy Attorney General Of the United States, Rosenstein held a news conference and he had this to say:
"There is no allegation in this indictment that any American citizen committed a crime," Rosenstein said at a news conference. "There is no allegation that the conspiracy altered the vote count or changed any election result."
What does it mean? Simple, no Americans were involved with the 12 Russian spies who were indicted in hacking the DNC servers and the hackings didn't alterd the vote count and election results of 2016.