Kaboom: Obama-Era ICE Official Says 'Cages' for Illegal Immigrant Children Were Obama's Idea
The man-in-charge of securing the border during the Obama administration just revealed that it was former President Barack Obama who had the idea of putting detained immigrant children in "cages". Democrats and media alike have been criticizing President Donald for caging immigrant children, according to a report by Washington Examiner. Thomas Homan, who has continued working with the Trump administration in a different capacity, added that the facility with cages was built under Homeland Security Secretary Jeh Johnson during Obama's time at the White House.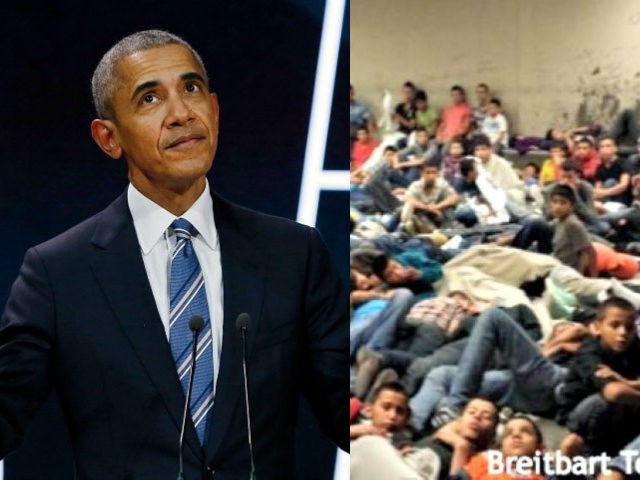 Thomas Homan, Obama's executive associate director of Immigration and Customs Enforcement between May 2013 and January 2017, said, "I've been to that facility, where they talk about cages. That facility was built under President Obama under (Homeland Security) Secretary Jeh Johnson. I was there because I was there when it was built.




Homan described his responsibility as an executive associate director of Immigration and Customs Enforcement on his LinkedIn profile as, "promoting public safety and national security by maintaining direct oversight of critical ICE programs and operations to identify, locate, arrest, detain and remove illegal aliens from the United States."



Thomas Homan since 2017 has served as Acting Director for U.S. Immigration and Customs Enforcement (ICE). Homan made those comments while speaking at a conference hosted by the Center for Immigration Studies. When a Trump official was asked "You still keeping kids in cages?", Homan snapped back, "I would answer the question, 'The kids are being housed in the same facility built under the Obama administration.' If you want to call them cages, call them cages. But if the left wants to call them cages and the Democrats want to call them cages then they have to accept the fact that they were built and funded in FY 2015

."

Homan argued that "cages" at Border Patrol facilities where immigrants were detained, was built to protect children, "It's chain link dividers that keep children separate from unrelated adults. It's about protecting children."

He doesn't consider family separation to be the Trump administration's fault and blamed the parents for trying to escape from poverty, violence and rampant corruption by seeking asylum in the United States. He told a House Appropriations subcommittee, "It isn't the fault of law enforcement that people get separated. It's the fault of the perpetrator. If someone enters this country illegally and knows he's in the country illegally and is found to be in the country illegally and is ordered removed from the country and chooses to have a child in this country that's a U.S. citizen by virtue of birth, he put himself in that position, so ICE is not separating that family."

Thomas Homan also felt the ICE was being unfairly treated and perceived for implementing laws that were decided by the government, "Unlike other agencies, we do this despite a constant deluge of biased attacks against ICE personnel by those who disagree with the laws we enforce. While I recognize that people have the right to protest laws they don't agree with I want to emphasize to the public and to the media and to this committee that ice officers don't write the laws. They enforce the laws"

He was of the opinion that those who tried to enter the country without undergoing the documentation process was breaking the law and had to face the consequences, "We are all blessed to live in the greatest country on earth and I can't blame anybody who wants to live here… But we are also a country built on the foundation of the rule of law. Those who choose to enter this country illegally which is a crime, a federal crime, or to overstay their visa have knowingly chosen to break the law.https://life.shared.com/amp/obama-cages-trump-ice-staffer-migrant