History in the Making:Trump signs first phase of US-China trade deal
3 years ago Many a liberal and Democrats in the media and in this forum said this will never happen well today it became a reality!
@SaremChuuk
@redsnapper
@FactsMatter
@errr
@visafree
@nesian691
@SakaSaka
,
January 15, 2020 - 01:04 PM EST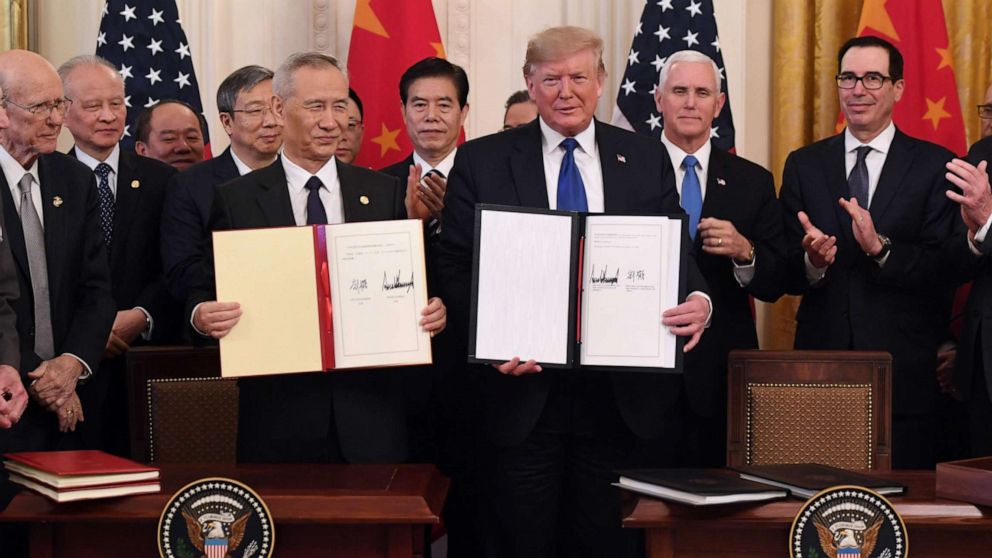 President Trump and Chinese Vice Premier Liu He signed an initial "Phase One" trade agreement Wednesday, freezing a 20-month trade war between Washington and Beijing and opening the door to a more-substantial "Phase Two" deal.

The deal, text of which was not released ahead of the signing, is said to include commitments by China to buy $200 billion of U.S. goods, including as much as $50 billion in agricultural products over two years.

"Today we take a momentous step, one that has never been taken before with China, toward a future of fair and reciprocal trade as we sign Phase One of the historic trade deal between the United States and China," Trump said.

"Together we are righting the wrongs of the past and delivering a future of economic justice and security for American workers, farmers and families."

The deal will halve 15 percent tariffs on $120 billion of Chinese imports, but leave 25 percent tariffs on an additional $250 billion of imports in place. Agreement on the deal prevented a planned increase in the tariff rate in October and a new round of tariffs in December.

Businesses are eagerly awaiting the text of the agreement, with trade watchers raising concerns about enforceability and the extent of China's commitment.

Speaking to CNBC Wednesday morning, Treasury Secretary Steven Mnuchin said that Trump could reimpose tariffs in the event that China reneges on its commitments.



Mnuchin noted that the first part of the deal included provisions on intellectual property, forced technology transfer, agriculture, financial services and currency, but agreed that significant issues remain for future negotiations.

"There are certain areas of other services away from financial services that will be in Phase Two. There's certain additional cybersecurity issues that will be in Phase Two. So, there are still more issues to deal with. And we'll address those," he said.

Trump himself has raised the possibility that he could postpone Phase Two, which would address the thorniest issues like intellectual property, technology, state-owned enterprises and industrial subsidies, among others, until after November's election.

The president signed Phase One at an ostentatious ceremony in the East Room of the White House, where he was joined by a high-ranking Chinese delegation, top administration officials and several high-profile guests, including Fox Business Network host Lou Dobbs, GOP donors Sheldon and Miriam Adelson and former Secretary of State Henry Kissinger, who served as an intermediary for the administration in negotiations with China.

Top White House economic adviser Larry Kudlow told reporters prior to the signing ceremony that the U.S. got about "half" of what it was looking to achieve with China in the Phase One deal. Still, he portrayed the initial pact as "historic."

"The other half, it's not that we didn't get it, it's just incomplete," Kudlow said. "The heavy lifting here was getting Phase One. Make no mistake about that. Nothing like this has ever happened before in history."

The president campaigned on cracking down on China, and even some Democrats cheered his efforts to confront Beijing over its economic practices. But the path to Wednesday's signing was fraught.

The two countries levied tens of billions of dollars in tariffs on each other, raising concerns of a global recession. U.S. farmers, in particular, were hurt by the trade war, with the Trump administration announcing billions of dollars in subsidies to placate them. The two sides appeared close to a deal last year, only for talks to break down.

Negotiations restarted in earnest last summer, when Trump reportedly told Chinese President Xi Jinping he would not raise the protests in Hong Kong amid discussions. Trump then announced in October the two sides had reached a deal; the White House announced in December that a Phase One pact had actually been reached.

Still, the White House pointed to the Phase One signing as validation of the president's unorthodox negotiating strategy.

"Early in this administration, you made it clear that the era of economic surrender was over, and you took a strong stand for American jobs and American workers," Vice President Pence said to Trump at the ceremony.

"You said to our friends in China that things had to change, and thanks to your leadership, today change begins," he added.
https://thehill.com/policy/finance/478396-trump-signs-first-phase-of-us-china-trade-deal