Marshalls' President Kabua's inauguration set for Monday
The formal inauguration for the new government of Marshall Islands President David Kabua is set for Monday in Majuro, with heads of state arriving over the weekend to attend the ceremony.
US Secretary of Veterans Affairs Robert Wilkie is scheduled to join Palau President Tommy Remengesau, Jr., Federated States of Micronesia President David Panuelo, Nauru President Lionel Aingimea, and other heads of state in Majuro for the ceremony.
President David Kabua takes the oath of office as First Lady Ginger Kabua, holds the Bible. High Court Chief Justice Carl Ingram and Clerk of Courts Ingrid Kabua conduct the ceremony.
Photo: RNZ Pacific / Hilary Hosaia
The ceremony is taking place two weeks after Mr Kabua was elected the ninth president of the Marshall Islands.
Mr Kabua and his 10-member Cabinet took their oath of office 13 January.
The new Cabinet includes the youngest member of parliament, new Education Minister Kitlang Kabua, who was elected for the first time in the November election to represent Kwajalein in the Nitijela (parliament).
At 28, she is the youngest MP ever elected to Nitijela.
She and former President Hilda Heine are the only women in the 33-seat Nitijela.
The Cabinet also includes three former Presidents: Kessai Note in Justice, Christopher Loeak as Minister in Assistance to the President and for Environment, and Casten Nemra, the new foreign minister.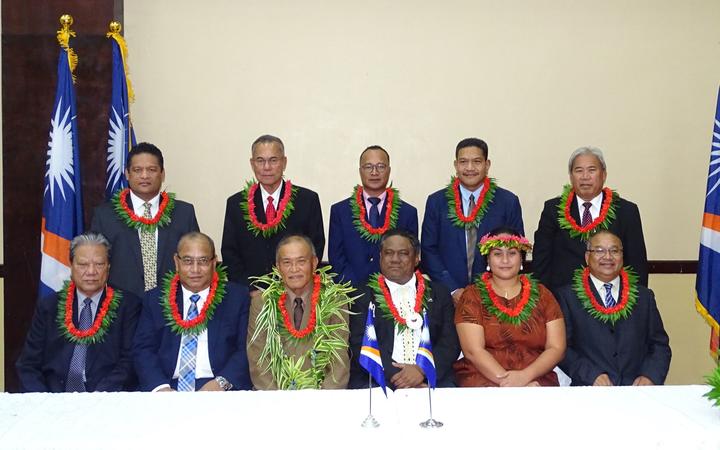 The new President is expected to deliver a state of the nation speech during the inauguration ceremony on Monday.
In brief remarks when he was elected 6 January, Mr Kabua said negotiation of a new financial aid package with the United States, concerns about nuclear test contamination at the former nuclear test site of Enewetak Atoll, and climate change were three of the items on his agenda.https://www.rnz.co.nz/international/pacific-news/407600/marshalls-president-kabua-s-inauguration-set-for-monday