FSM, Palau sprinters do well in their Tokyo Olympics heat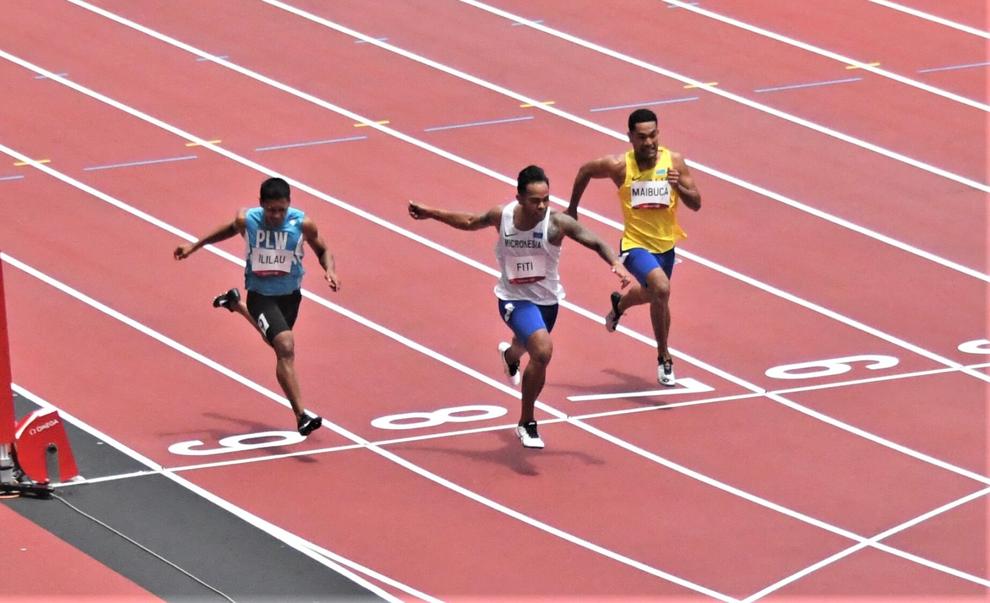 Palau's Adrian Justin "AJ" Ililau, at left, finishes just behind Scott Fiti from the Federated States of Micronesia, center, Saturday at Olympic Stadium at the Tokyo 2020 Olympics. At right is Karalo Hepoiteloto Maibuca of Tuvalu, who ran a 11.42 — a national record.
It was just about a photo finish for the two 100-meter sprinters from the Federated States of Micronesia and Palau at the Olympic Stadium at the 2020 Tokyo Olympics.
The FSM's Scott Fiti, who hails from Chuuk, clocked a season-best 11.25 seconds, while Palau's Adrian Justin "AJ" Ililau clocked a personal-best 11.42 seconds, racing side-by-side in the third of three heats Saturday afternoon.
Fiti was just off his personal best time of 11.10 seconds.
"It was amazing running in one of those lanes, it was amazing. My favorite experience," said Fiti. "It was pressure to represent my home country and I am proud to be Micronesian."
Ililau leaves the Olympic stadium with his best time ever. He beat his entry time of 11.58 seconds by 0.16 seconds.
"It was a tough race, and I'm just glad I got this Olympic experience making this my Olympic debut. I'm glad to be running alongside all these great athletes," said the 21-year-old. "I hit a personal best and that's all I wanted."
Ililau said he will return to Palau with a message and broader mindset.
"I'm just really honored to represent all of you, and I can't wait to continue my training," he said. "And I want to push the younger athletes beyond me."
https://www.guampdn.com/sports/fsm-palau-sprinters-do-well-in-tokyo/article_41e81a1e-f1c3-11eb-a7ad-478d666aa58f.html